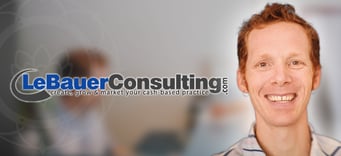 Aaron LeBauer is known for many things, including Entrepreneur, Physical Therapist, Business Consultant, Marketing Guru, Thought Leader and Friend. In fact, he's built a career on his reputation.Aaron also understands the risks of promoting a brand. Through his diligent research, his experience as a Practice Owner, a referral from a friend and his first hand experience, Aaron would like to Pass-On the information regarding the absolute best Physical Therapy payment solution available; Go Cardconnect.
1.70% + $0.20 per item (Swiped Debit, HSA,FSA, Consumer cards, etc)

2.70% + $0.20 per item (Card not present, including online billpay, payment plans, card on file, Corporate cards, Signature rewards, foreign, etc.)

Mag-Swipe reader for Point of Service transactions

Secure "Card-on-File" with encryption and tokenization

Offer flexible Payment Plan options

All included in our flat rate!
Complete the form below to get $5,000 in free processing today!